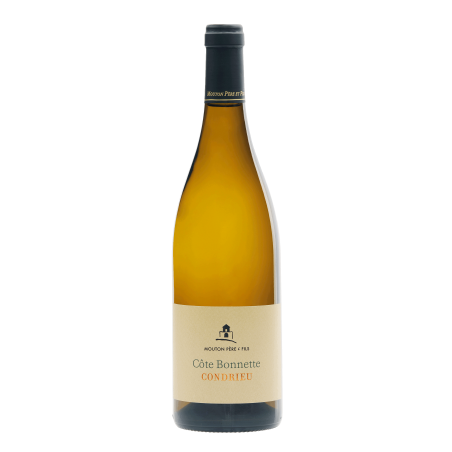  
Condrieu Côte Bonnette - Bottle
This cuvée is authentic and generous. The nose is flattering with fruity aromas, reminiscent of apricot and peach, but also floral with notes of violet and powdered rose. The granitic soil also gives it freshness, necessary for a good balance.

Independent winemaker

High environmental value

Manual harvest
Capacity : 75cl bottle
Vintage : 2022
Type of wine : White
Tasting temperature : 12 °C - 53.6 °F
Food and wine pairing : It will go perfectly with river fish, foie gras or simply as an aperitif.
Orientation of the slope : Southwest slope overlooking Condrieu.
Appellation : Condrieu - AOP
Rootstock : 110 Richter
Grape variety : 100% Viognier
Type of soil : Granite
Average age of vines : 35 years
Vineyard : Succession of small plots of Condrieu. The very rugged vineyard makes any mechanization impossible. The vines are maintained manually.
Yield : 35 hl/ha
Prune : Single Guyot
Grape harvest : Manual at maturity in boxes
Winemaking : Direct pressing of the whole harvest. Fermentation of the clear juices after static settling in barrels and stainless steel tanks.
Breeding : On fine lees, 70% in barrels 30% stainless steel vats, for 8 months
Wine aging  : From 1 to 4 years old. It is appreciated when young and within 2 to 3 years after the vintage.